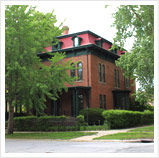 The YWCA's Vincent House is the oldest structure left in the community. The third floor was and remains a ballroom. The house was a social center in the late 1800's and early 1900's.
And it remains so... It is now available for rental. It can be used for meetings, dinners, receptions, weddings, and other formal or casual get-togethers.
For more information or to book the Vincent House, please contact the YWCA's Terry Pierce at
(515) 408-5073terryp@ywcafd.org.
. She is available via email at
Download a PDF copy of the Rental Contract.